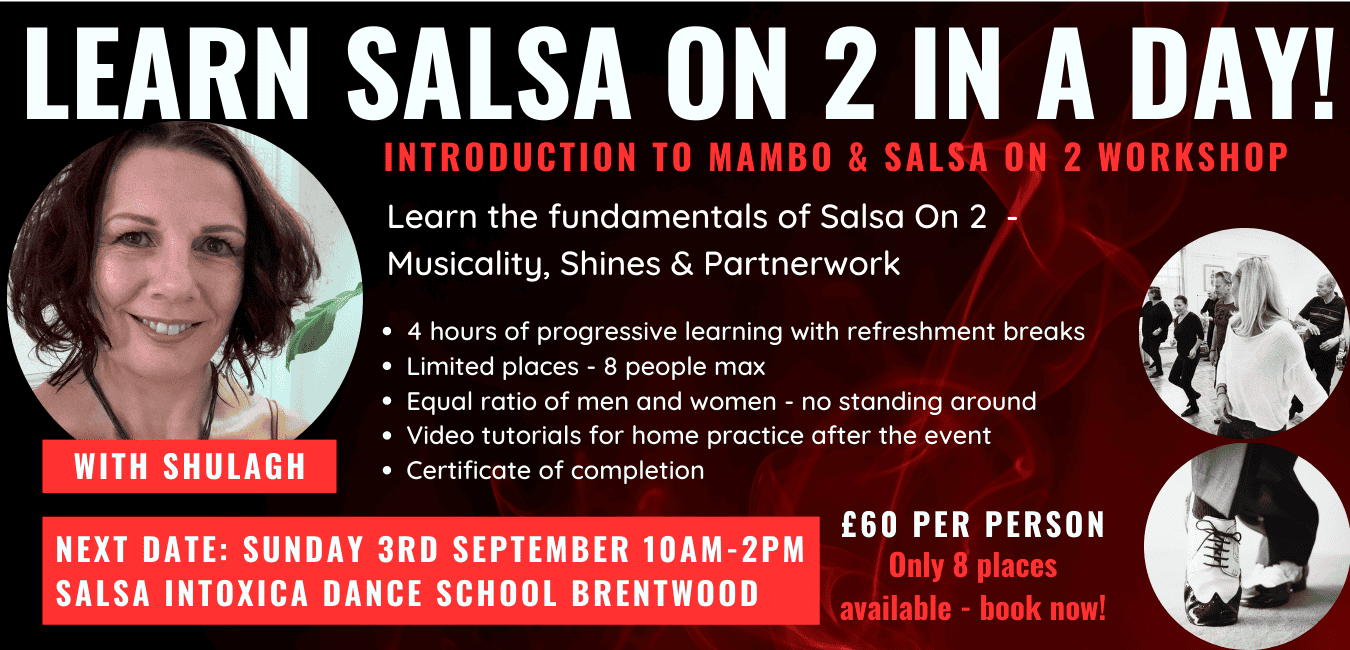 The Only Place You Can Learn Salsa On 2 In Essex
Until now, Essex based On 1 dancers wishing to expand their social dance skills to include New York Style On 2 would have had to travel into London to try a class, or attend a congress to do an introductory workshop.
This is inconvenient enough at the best of times but even more challenging now with rising fuel costs, ULEZ zones, congestion charge, tube strikes and general disruptions to public transport.
So now you don't have to!
My private dance studio in Brentwood is a hub for social Salsa dancers wishing to take their social Salsa dancing to the next level by learning to dance On 2.
Although I offer an 8 week intensive course to give dancers a thorough grounding in Mambo and Salsa On 2, this requires a bigger commitment which you may not be ready for.
If this is you, then my Mambo Workshop is the perfect opportunity to dip your toe in the water and decide if dancing On 2 is for you.
Why Learn Salsa On 2?
I often say that On 2 is not a timing, it's a feeling.
A way of hearing the music and capturing the rhythmic essence of it.
There are a few different ways of dancing Salsa On 2, and the reality is that On 2 dancers tend to dance to what's most prominent in the music rather than sticking rigidly to generic counts. 
This requires more understanding of Salsa music, timing, and different styles within the On 2 umbrella.
It also requires more nuanced communication between lead and follow,  to create a fun and harmonious shared musical adventure.
It's true that the majority of dancers who get through the initial learning curve of transitioning to On 2 find they prefer it, and will go out of their way to attend events which are geared more for the On 2 dancer.
What's Covered In The Class?
Basic musicality for On 2 dancers
Shines and partnerwork
Stylistic differences between NY and LA Style
Dance floor "Reality Tips" for lead and follow
In A Nutshell
Four hour workshop
Private studio in Brentwood
Limited places – 5 leads and 5 follows
£60 per person – advance booking only
Book Your Place
There are only ten places available on my Mambo Workshop – 4 leads and 4 follows.
As soon as these places are filled, this page will be taken down!
This workshop is priced at £95 per person due to the amount of individual attention each dancer will get and the amount of content covered.
Not to mention the video tutorials and music lists which will be available for you on my online learning platform.
It's an intensive day but will be informal and fun.
Use the PayPal link below to secure your slot and make sure you don't miss out!
The Venue
The Mambo/Salsa On 2 Workshop is held in my private studio in Brentwood with professional audio kit and sprung wooden dance floor.
There is free parking outside and more detailed location info can be found on the contact page of this website.